Bringing the worlds best apple expertise to Ontario
January 28, 2015
Ontario's apple farmers do a great job bringing fresh, top quality fruit to market in our province.
In order to continue to meet consumer demands and make sure they stay competitive in the global apple market, though, farmers have to continually find new or better ways to grow apples.
A great way to do that is by learning from what farmers around the world are doing.
How are they growing apples in the United States, in South America, in New Zealand, or in Europe?
And how can we bring what they're doing to Ontario and adapt it to our climate and growing conditions?
Leslie Huffman and her husband Doug Balsillie, who have an orchard near Harrow, Ontario, were part of a contingent of Ontario apple growers who took part in a study tour to northern Italy last fall organized by the International Fruit Tree Association.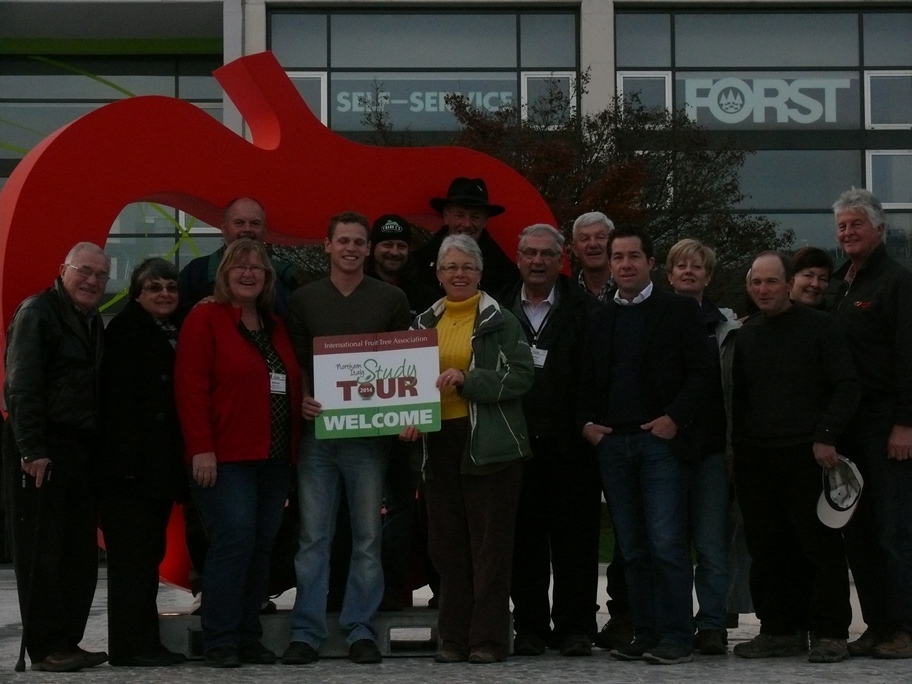 Their weeklong visit included farm tours, lectures by researchers and agricultural extension staff, visiting a packing plant and a research station, and spending some time at Interpoma, a large global apple trade show.
Here are some of the highlights of Leslie's visit to the South Tyrol region of Northern Italy, which she shared with participants at the 2015 Ontario Apple Growers annual general meeting: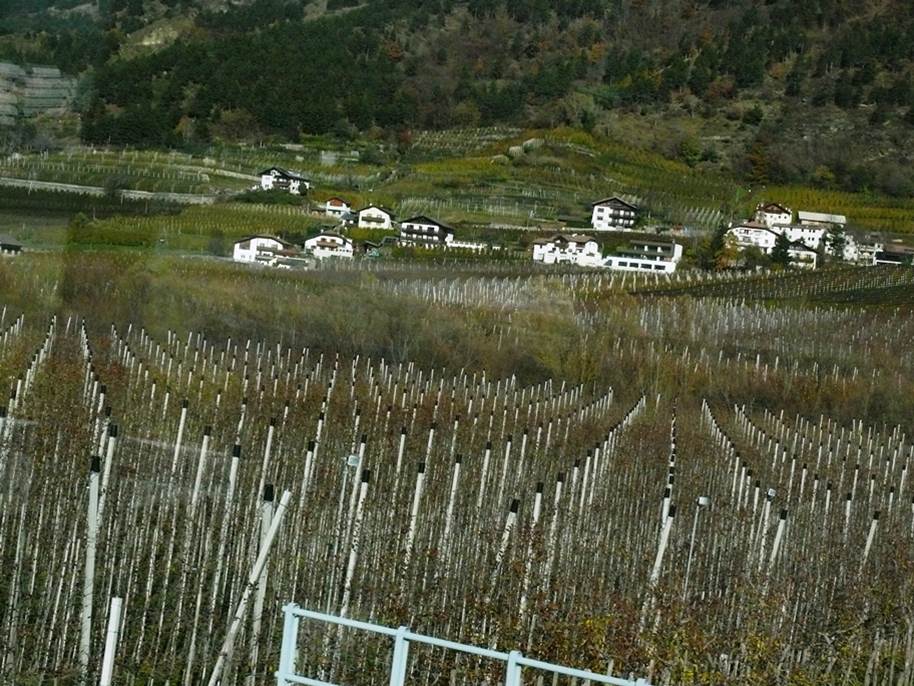 High density plantings (see image at left) – planting the trees very closely together, supported by trellises like grapes, but grown into a tall fruiting wall (see image below) – are the focus of the apple industry in this area. There are many small farms in this area with an average size of only 3.5 hectares (approx. 8.64 acres), so it is important that they use all available land.
"Every square inch in those mountain valleys is planted, and with a per hectare land price of 600,000€ (approx. $400,000 CND per acre), farmers here mostly inherit land, they don't buy it," explains Leslie. "And they get really high yields, averaging just under 80 bins per acre of packable fruit."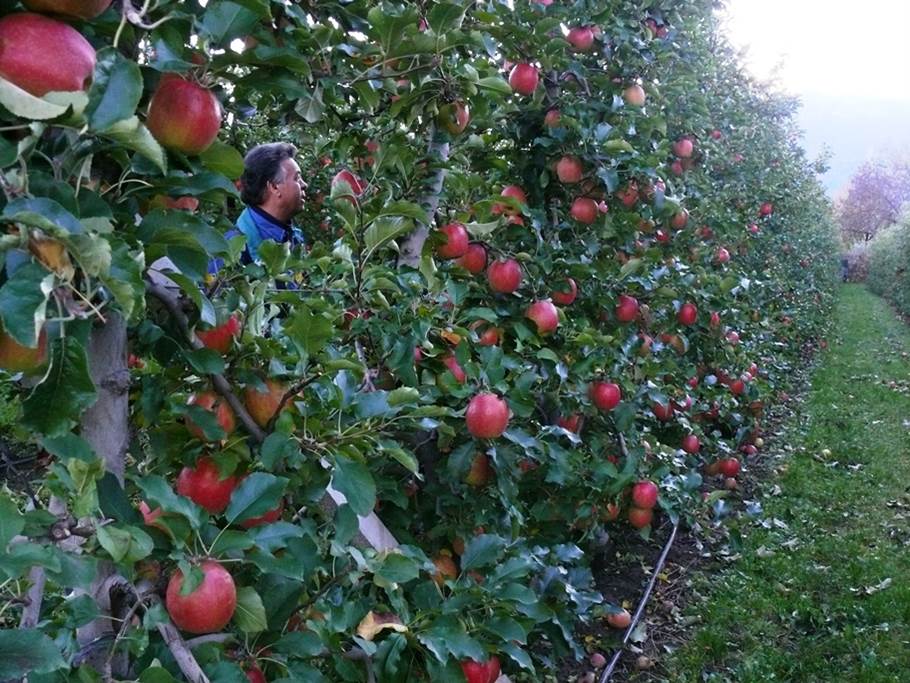 The South Tyrol is a mainly German-speaking area of Italy, with two main fruit growing areas:
The northern valley is called Val Vanosta (Vinschgau in German) where about 70 per cent of the planted apples are Golden Delicious. There are nine 9 co-operatives in the region with 5,200 hectares of orchards. These orchards are at the highest elevations.
The lower valley is home of the South Tyrolean Fruit Growers' Co-operative (which the locals call VOG) where farmers sell their fruit. The VOG has 34 co-operatives and 10,600 hectares, where many new varieties are grown. One co-operative is growing organic fruit.
It is important for farmers to harvest their apples at just the right time. For example, at one co-operative, each farmer is assigned a 10-day harvest window for each variety during which they can deliver their apples to the co-op. Farmers face a decrease of 50 – 70 per cent in the price they receive for any apples that are delivered outside of the assigned window.
The South Tyrol region produces over 1,000,000 tonnes of apples on 15,700 hectares (just under 40,000 acres). Over the last 30 years, they have focussed on better orchard design with trees trained to reduce labour and improve yields and fruit quality.
Hands-on consultants paid partly by the government and partly by the farmers are available to help farmers with apple growing issues and concerns – in North America, this is called the extension service.
All orchards can protect their trees against frost with sprinkler irrigation system, and almost all trees are covered in netting to protect the fruit against hail damage.
"They have to have crop everywhere and the fruit must be perfect," says Leslie. "They've perfected the tall spindle tree with uniform orchards, and are quickly moving to fruiting walls of tall and very narrow trees."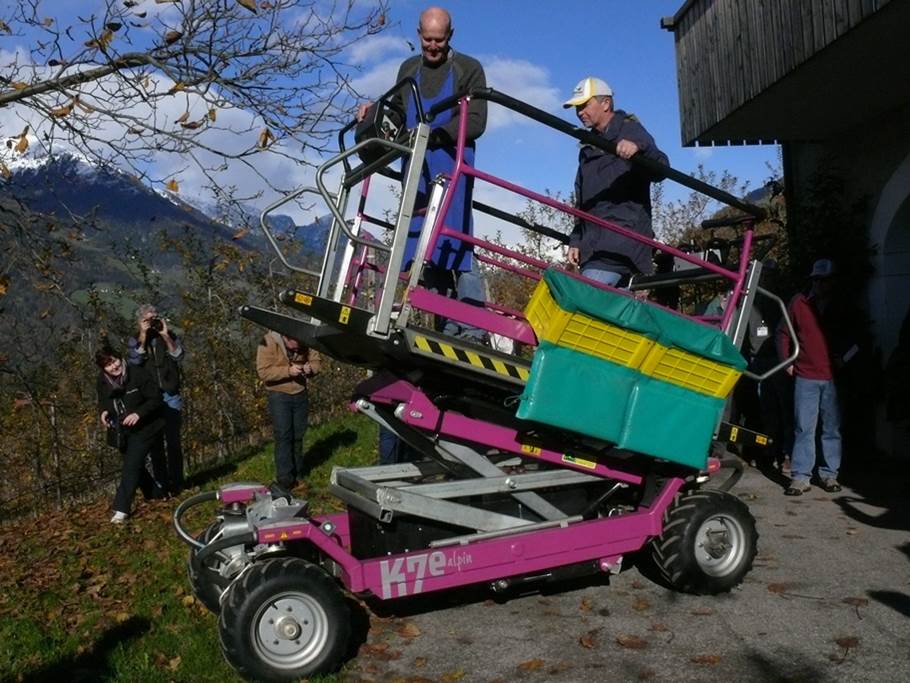 All farmers had an apple picking platform (see left) – an up and coming technology in Canada too to help farmers automate fruit picking more – and wouldn't even think of having orchards without this technology, adds Leslie.
When apples are harvested, they go immediately into cold storage and are logged in a computerized inventory system. When the day's apple orders are received in the morning, the appropriate apples are brought out of cold storage by a robotic forklift that goes through the storage and picks what is needed.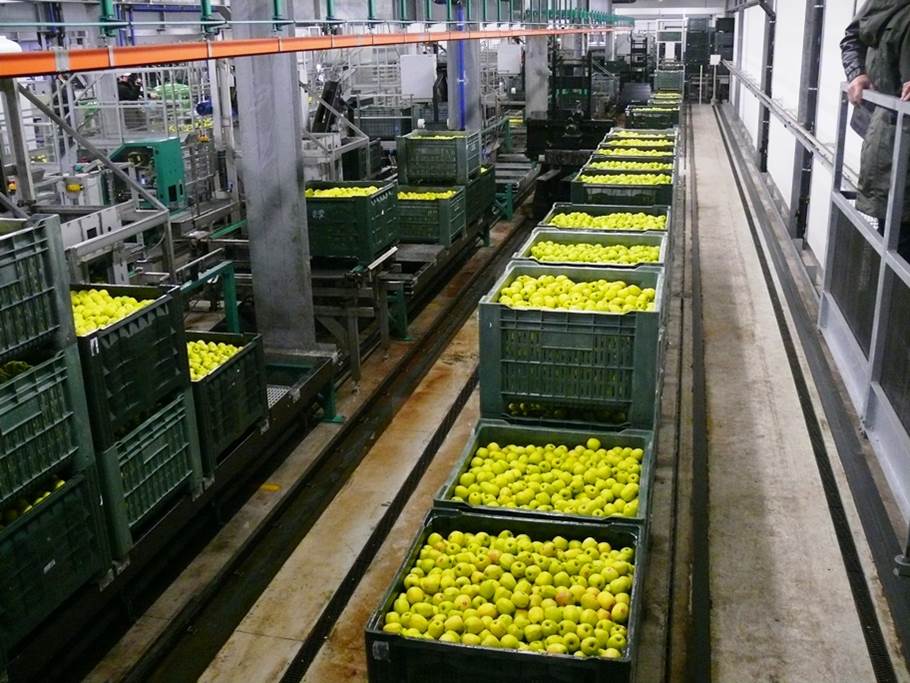 Because they grow many different varieties, they are able to supply a wide variety of markets around the world. But that's not without its challenges – each market they sell to, for example, requires different packaging so they have to keep a wide variety of packaging in constant supply.
"Being able to see how things are done in other parts of the world and getting to speak to other apple growers and researchers is invaluable for us as apple growers here in Ontario. It gives us a new way of looking at our own operation and how we might be able to do things differently" explains Leslie.
More information about the South Tyrol Fruit Growers' Association is available at http://vog.it/en/our-company.html.
More information on the VI.P cooperative (Val Venosta or Vinschgau), see http://www.vip.coop/en/home/1-0.html
To learn about the large apple trade show Interpoma, visit http://www.fierabolzano.it/interpoma/en/index.htm.
For more information about the International Fruit Tree Association, check out http://www.ifruittree.org/dnn/default.aspx.