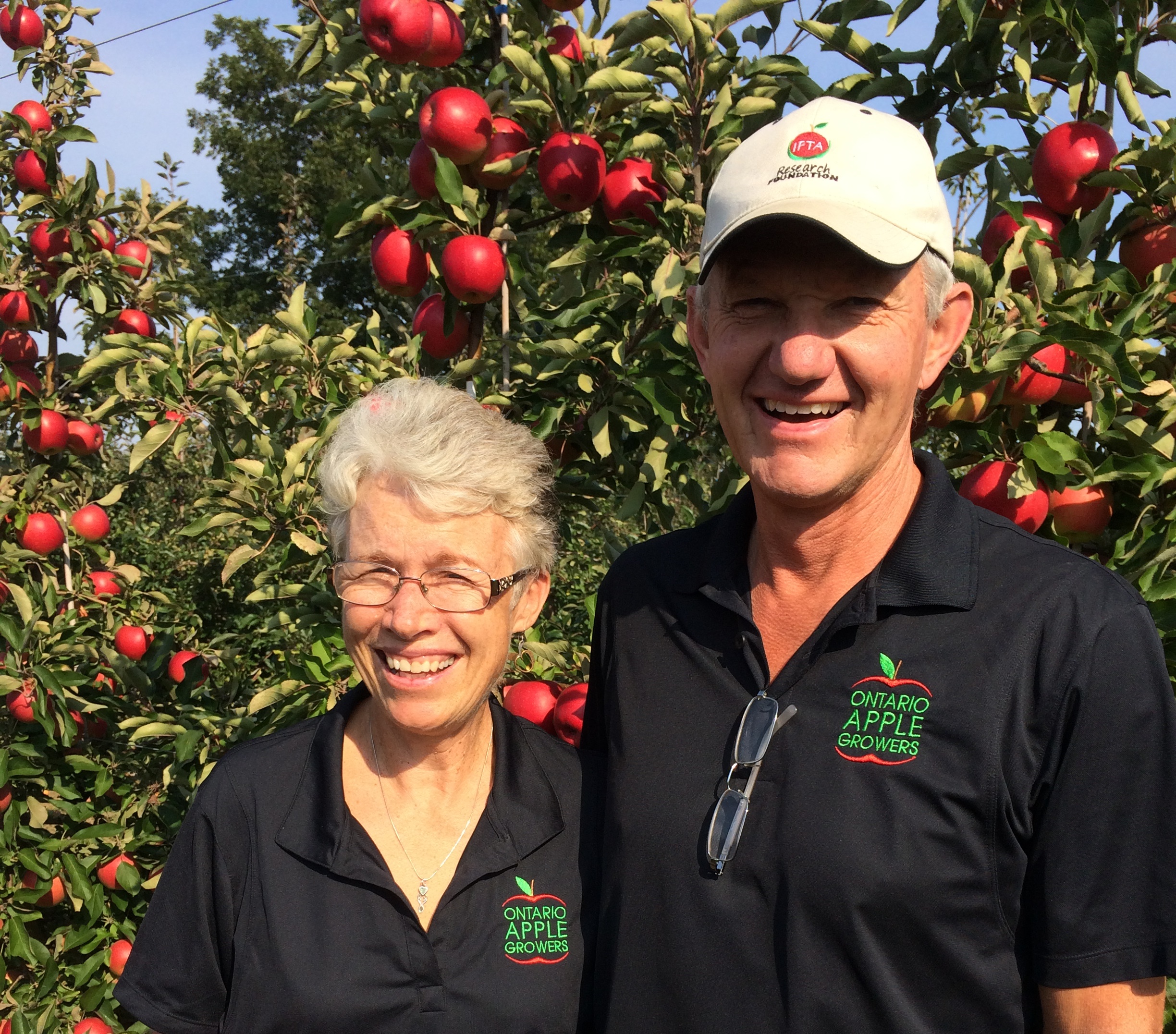 Canadas most southerly orchard is at the forefront of new fruit varieties
By Lilian Schaer
Harrow – There's an orchard on the shores of Lake Erie where you can get apple varieties that aren't readily available anywhere else.
Doug Balsillie and Leslie Huffman Balsillie of The Fruit Wagon near Harrow have been growing fruit – mostly apples but also other tree fruit and berries – in Canada's most southerly orchard for more than 30 years.
And they're long-time participants in fruit testing associations and new variety trials.
That means they're growing apple varieties that aren't yet commercially available and evaluating them to help tree fruit breeders decide which varieties should move forward to market.
Several of the numbered selections – that's what varieties are called while they're still being evaluated and before they're named and released for farmers to grow commercially – they received from the Agriculture and Agri-Food Canada tree fruit breeding program in the early 1990s for testing ultimately came to market as named varieties.
That includes Sunrise, which is harvested in August, Silken in September, and Aurora Golden Gala in October.
"We had some successes out of the early trials. And we actually still have pear and apple trees that never got named but we still sell the fruit and people know them," explains Leslie, adding that the popular Ambrosia apple was first brought to Ontario in trial plantings in 2000.
In 2012, the Ontario Apple Growers (OAG) set up a new variety testing program in Ontario that now includes 11 sites across the province's apple growing regions, including The Fruit Wagon.
Participating apple growers received seven test varieties to plant in their existing orchards that year, and committed to managing them as they would any other fruit-producing trees on their property.
"As a tester, you take a risk that they may be real duds or that the trees could die and you won't have a crop," Leslie says.
She helped establish the program in her role as the provincial apple specialist with the Ontario Ministry of Agriculture, Food and Rural Affairs (OMAFRA) before her retirement. Part of that job included recording general measurements and observations from test sites and giving growers rating and commentary sheets so the OAG and OMAFRA could compile everyone's feedback to send back to each variety's breeder.
It's ultimately the breeder who decides which selections become named varieties and move forward to market. Of the original seven test varieties from British Columbia, two have been named so far: Nicola, a very large and full flavoured apple, and Salish, a beautiful and sweet-tasting fruit.
"Trees start bearing fruit in their second and third years after planting, so this is only really the second year with a commercial crop on these trees," says Leslie, adding that test selections from Nova Scotia and Minnesota were added on their farm in 2015 and 2016.
Very few other fruit is sold by name the way apples are and those names likely won't be the names the fruit is marketed under, though, as there is a new trend towards establishing names that will resonate with consumers, Leslie says.
"Apple varieties will play a big part in the future of the apple industry. The beauty of having test plantings on your farm is that I've had these trees for four years so I can walk out into the orchard identify what's what," she says. "It's like having different kids and you treat them all differently."
"There is excitement in apples again and we're all looking for the next successful apple variety, "she adds.
-30-