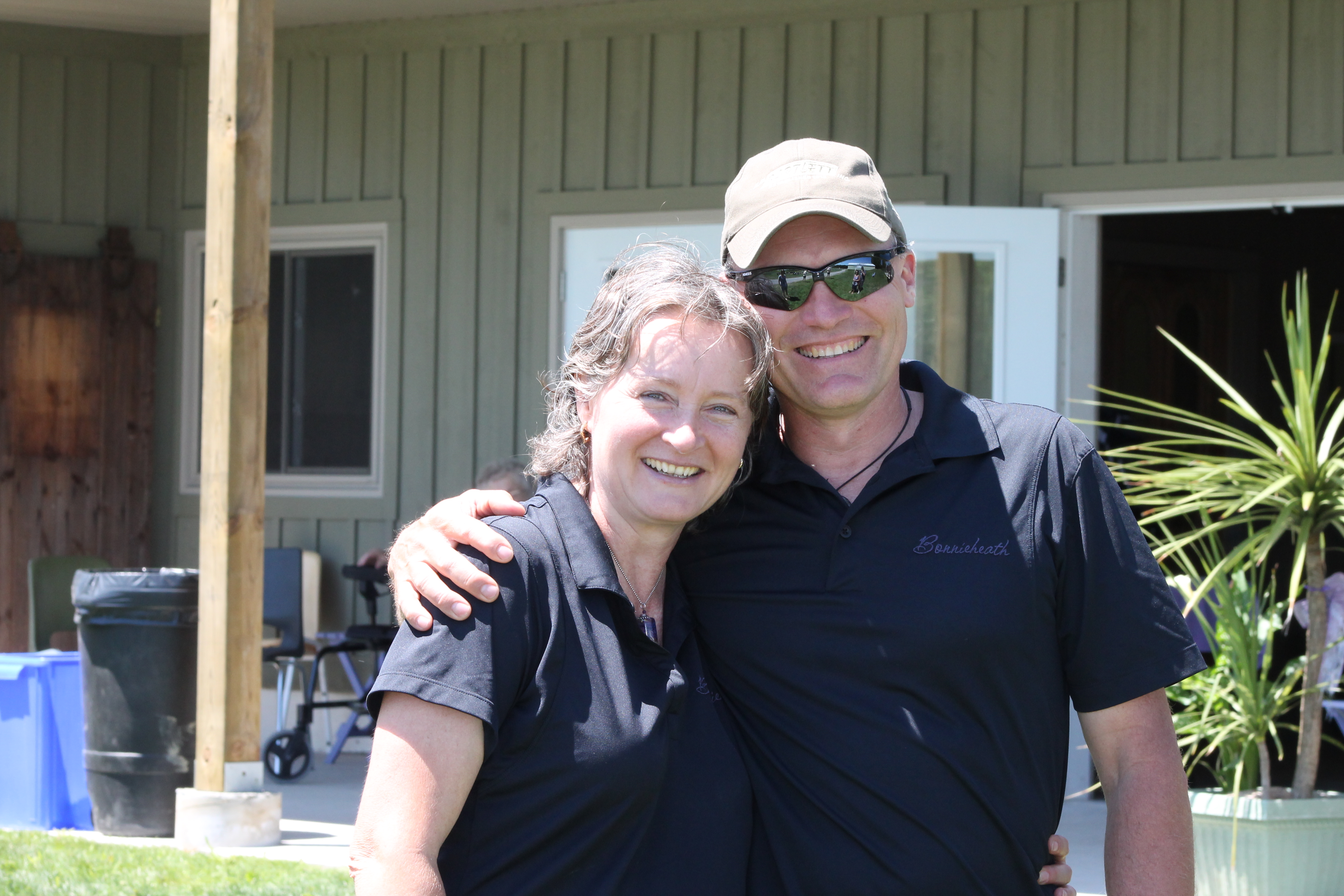 The accidental cider business
It was their daughter's exchange semester in Scotland that helped chart a new and unexpected path for long-time Norfolk County apple growers Anita and Steve Buehner.
They've been in the apple business since 1982, growing for the fresh market and marketing their fruit through the Norfolk Fruit Growers' Association. Their orchard includes Gala, Ambrosia, Red Delicious, Empire, McIntosh, Idared and Crispin apple varieties and they also grow grapes and lavender.
In 2014, they opened their winery, Bonnieheath Estate – and there was an "a-ha" moment when their daughter came home from her abroad studies asking why her parents weren't also in the cider business. After all, Bonnieheath had a winery, an apple orchard and a winemaker, and she had noticed how popular hard ciders were overseas.
The Bonnieheath winemaker happened to be at the winery that day, recounts Anita, and mentioned that he also had experience making ciders. And so the experimenting began.
"He began playing around with different blends and brought them for us to try," she recalls. "We were just new to the wine business so this wasn't something we had planned, but it certainly made sense."
They entered their favourite cider in the first-ever craft cider competition at the Ontario Fruit and Vegetable Convention and ended up winning second place.
"That first competition we entered was to see what the reception would be to the blend that we had developed. That was prior to production at the trial stage," she says. "We were thrilled with the second place finish so proceeded into production and have been replicating that every year."
They're now producing and selling three different ciders on-farm under the Folkin' Hard Cider brand (named for Norfolk County): apple and apple-cherry are available year round and the apple-strawberry-maple blend is sold in the spring as a limited seasonal release. All use only Norfolk County ingredients.
They've since won two first place awards at the Ontario Craft Cider Competition as well, and Anita believes it's their unique blend of apples and the subtleness of the cherry and strawberry fruit flavourings they add that help set their ciders apart.
"We are pleased with our successes in the competition. We really want the apple flavour to come through and to create some intrigue with our fruit flavours," she explains. "People can smell and taste "something" else but it's not intense and overwhelming."
A fourth cider flavour is currently in development but there is no plan to expand the scope of their production. They're farmers first, Anita says, and plan on remaining boutique winery and cidery producers; their growing lavender business also keeps them busy.
The Buehners use some of their own apples in their cider, as well as buying locally produced fruit through the Norfolk Fruit Growers' Association – apples that aren't visually perfect enough to be sold on the fresh market. This helps add value to local apple production and supports other local farmers.
In fact, that's been one of the most rewarding aspects of this new venture for the Buehners.
"In the cider business, we find it most rewarding that we are able to add value to apples that are visually imperfect. We didn't require new plantings of apples, we are using what exists in our community and adding value to it," Anita says. "That's really important to us because we believe in that philosophy of good agricultural practice and using the whole production."
-30-